Associate Professor Daniel Fabijanic has been awarded a 12-month Study Melbourne Research Partnerships program grant for his project titled…
Miniature solid-state 3D metal printing for space applications
International Partners: Virginia Polytechnic Institute and State University (Virginia Tech) and MELD Manufacturing Inc., USA
Deakin University is a leader in the innovative use of digital technology and its Advanced Manufacturing and Simulation Lab is known globally for its research in the production of lighter weight parts using advanced metals, fibrous materials and hybrid materials using the latest cutting-edge manufacturing processes. MELD Manufacturing Inc. and Virginia Tech bring a wealth of AFSD processing knowledge to the project.
Printing small, light-weight metals for space
Current metal printing technologies are too big to take into space
Unique process doesn't require heat and can use any available scrap metal
Strong interest from United States Airforce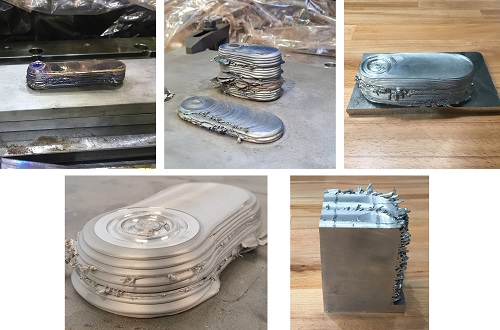 Learn more about the other researchers who have also been awarded a Study Melbourne Research Partnerships program grant in 2021.
Researchers in Victoria and the USA are developing a new way of printing miniaturised, light-weight metals to take into space. The project builds on Deakin's work with MELD Manufacturing to optimise a unique solid-state metal additive manufacturing process called additive friction stir deposition (AFSD). By forming a new partnership with Virginia Tech, with strong interest from the United States Air Force, the project will unlock new avenues for interaction and student pipelines on an exciting innovation.
Uniquely, this manufacturing process operates without melting the input material and can use any scrap metal, making it ideal in zero-gravity environments. A solid bar of the deposition alloy is rotated under axial pressure against a deposition plate to create frictional heat, which significantly softens the metal. Successive layers are then built up to create 3D parts with fine microstructure and wrought properties. Currently capable of manufacturing large parts, the scale needs to be significantly reduced for use in space.
This project will focus on creating a miniature version of AFSD process, particularly challenging given the effects of scale will not be linear. Even for the same input bar size, each material requires a different load, torque and translation speed to achieve a sound metal deposition. Experiments must be performed to develop this understanding. The collaboration will forge a new academic partnership in the USA for mutually beneficial interactions, and create a local commercial opportunity in advanced manufacturing.