Dr David Opar has been awarded a 12-month Study Melbourne Research Partnerships program grant for his project titled…
New technologies to model human locomotion: innovative and translational approaches with implications for human health
International Partner: Springbok Analytics, USA
Australian Catholic University's experience in Sports Science and Exercise research is world-renowned with the newly established Sports Performance, Recovery, Injury and New Technologies (SPRINT) Research Centre. Springbok Analytics is a medical technology company from the USA with revolutionary artificial intelligence MRI processing technology.
Combining wearable sensors and MRI in new method to analyse locomotion
A more affordable and portable method which allows for highly individualised results
Treatment of conditions that affect walking and running, as well as performance enhancement
Opportunities for commercialisation of a product to assist clinicians and consumers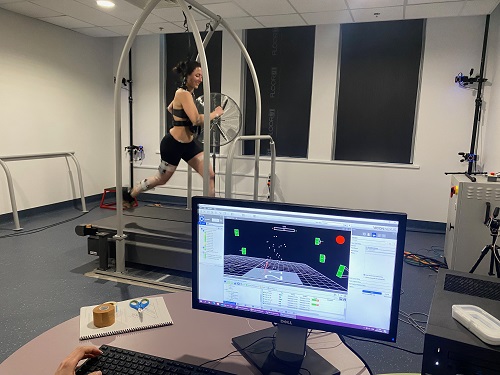 Learn more about the other researchers who have also been awarded a Study Melbourne Research Partnerships program grant in 2021.
Tools that assess walking and running capability are important for treating various musculoskeletal and neurological conditions, as well as for enhancing performance. This project will develop a new approach to gait analysis by using wearable sensors – inertial measurement units (IMUs). This approach will be more affordable and portable than the current gold standard of optical motion capture, which is expensive, and involves a specialised lab and staff.
A world leader in developing MRI image processing technology, Springbok Analytics is the international industry partner working with the Australian Catholic University (ACU) on this project. Together they will pair IMUs with MRI imaging to develop models of human locomotion. Springbok Analytics has developed an artificial intelligence driven approach to automatically segment lower limb MRI scans, which reduces analysis time of MRI data by 95%.
This new technique will enable the provision of unrivalled insights into enhancing performance, recovery from injury and offsetting the effects of aging. These advances have a high probability of producing opportunities for commercialisation as the potential product would be beneficial to consumers and clinicians alike.
As part of this project there are opportunities for ACU to jointly host and mentor research students, as well as further opportunities for students from the USA to complete their doctoral studies in Victoria.