Professor Diego Ramirez-Lovering has been awarded a 12-month Study Melbourne Research Partnerships program grant for his project titled…
Citarum Transformation: A Living Laboratory for International Research and Impact, addressing river pollution
International Partner: Universitas Indonesia, Indonesia
Monash University's Informal Cities Lab seeks to address wicked, multidimensional challenges through research and development activities spanning spatial, social and economic dimensions. Universitas Indonesia brings extensive research experience in developing and piloting water and waste solutions with vulnerable communities in Indonesia, through collaborations with researchers, NGOs and communities.
Other research partners: EAWAG – Swiss Federal Institute of Aquatic Science and Technology, Switzerland and CSIRO, Australia.
A "Living Lab" international collaboration to tackle river pollution in the Global South
A platform for a 5-10 year research program in West Java, Indonesia to revitalise rivers through interdisciplinary research
Designing closed loop water and waste management systems for informal communities
A first of its kind, the lab will attract high quality researchers and students from around the world to pilot, test, and measure the long-term impacts of the model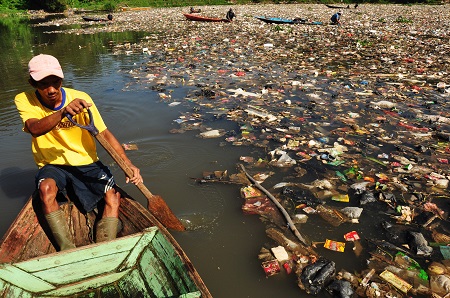 Learn more about the other researchers who have also been awarded a Study Melbourne Research Partnerships program grant in 2021.
River pollution is a multidimensional problem that cuts across technological, behavioural, governance, environmental and economic domains. To tackle this complexity, Monash University and Universitas Indonesia will develop a new approach to addressing river revitalisation challenges through the establishment of a Living Lab design.
Living Labs undertake place based, process-oriented and reflexive experiments in the multi-stakeholder practice of sustainable development. This project will assemble an international consortium of partners to bring a range of expertise and disciplines together to research the optimal conditions of river transformation.
The demonstration will take place in a 2.6 kilometre segment of the Citarik River, an upper tributary of the Citarum River in West Java, Indonesia.  Infamously one of the most polluted rivers in the world, its severe environmental degradation results in adverse impacts to the health and livelihoods of 25 million people.
Circular economy principles will inform the choice and design of solutions so as to drastically limit waste generation, keep products and materials in use, promote micro-economies and new job creation, and regenerate natural systems.
The Citarum Transformation Living Lab will create an institutional framework that enables deep collaboration with policy, community and industry partners to achieve real world impact. It will produce a novel and scalable approach to overcoming river pollution in the Global South, meanwhile strengthening the collaborative research relationship between Victoria, Indonesia, and Europe.